Our Existing software products include:
I. Matrix Network Public Opinion Intelligent Analysis System
Matrix Public Opinion Intelligent Analysis System, is to use modern information technology with the control and response of Internet public opinions as the core, to realize the large-scale collection and acquisition of various types of data such as websites, microblogs, WeChat, APPs, forums, electronic newspapers, posts, overseas websites, etc., to realize the comprehensive real-time monitoring, analysis and judgment of network public opinions, as well as the timely detection, tracking, rapidwarning and effective control of sensitive information, emergencies and network public opinion hot spots. We will comprehensively improve the technical support capability of Internet public opinion monitoring's command and control work, consolidate the technical foundation for Internet public opinion control and response, enhance the timeliness and accuracy of network monitoring and judgment work, and provide a strong technical guarantee for maintaining a good Internet public opinion environment.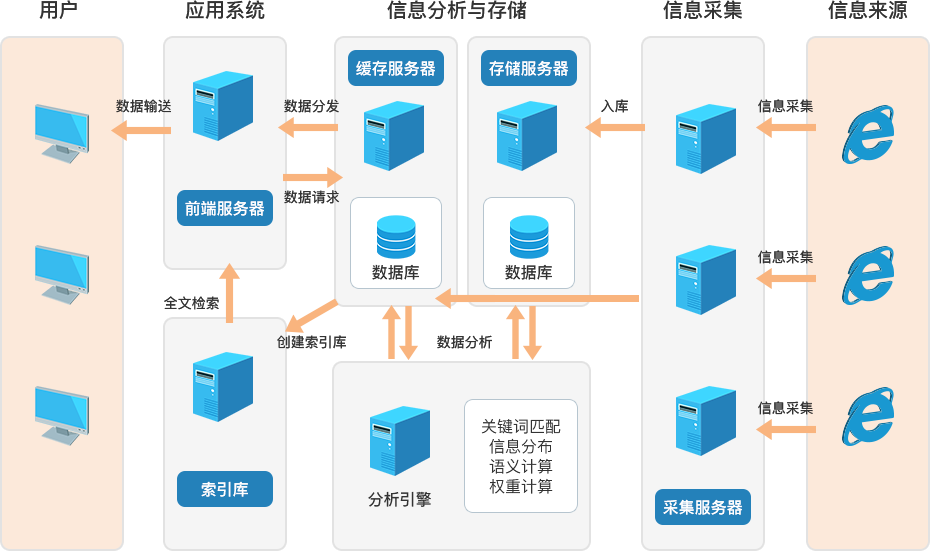 1. Overseas information collection coverage
Fully covering the five major social platforms currently the world's largest, including Facebook, Twitter, Pinterest, Instagram and Linkedin. Covering overseas mainstream portals, communities, forums, blogs, etc., involving more than 100 countries and 10 language conversions.
2. Domestic information collection coverage
Covering more than 40,000 mainstream information sources through the whole Internet, including comprehensive portals, vertical news medias, newspapers, forums, blogs, microblogs, WeChat, Q&As, e-commerce and APP clients. Covering domestic microblog/WeChat with 5000+ KOLsfor real-time tracking.
3. Personalized accurate monitoring and tracking
Supporting flexible custom settings such as media category, format, region, source, time, etc. With complex logic and automatic data backtracking to ensure data comprehensive and accurate. 7*24 monitoring and timely detection of network public opinion bring comprehensive observing of network public opinion dynamics.
4. All-round social media analysis
Supporting all-round tracking methods, tracking and comparing by keywords, accounts, single posts, KOL, etc., to fully gain insight into the spread effect of social public opinions, marketing activities, official WeChat accounts, key single posts and other multiple scenes.
5. Crisis Warning
Based on three levels of warning: automatic warning, manual warning and negative event tracking warning, all negative information can be notified through WeChat, SMS, email, pop-up window and telephone.
6. Professional reporting services
Various public opinion trend charts can be intuitively generated in the form of words and charts, and public opinion bulletins and public opinion special reports are automatically generated. For analysis reports from different industries, analysts can provide in-depth customized report services with our in-depth understanding of vertical industries.
7.Combining AI Enabling with Insight and Judgment of Big Data
Through the application of statistics and in-depth learning, natural language processing and text mining are provided and applied to monitoring, warning, word-of-mouth management and other fields. TensorFlow is used for a large number of data training and optimization. Through in-depth learning technology, emotional analysis technology based on different subjects in different industries is provided for the platform to make more accurate judgment.
II. Matrix Network Data Intelligent Collection System
Matrix Network Data Intelligent Collection System realizes intelligent collection of data from various social media (Facebook, Twitter, YouTube, WeChat, microblog, etc.), and can intelligently collect data from various news medias, forums and other websites, and extract various elements such as authors, contents, comment points, etc. with excellent performance.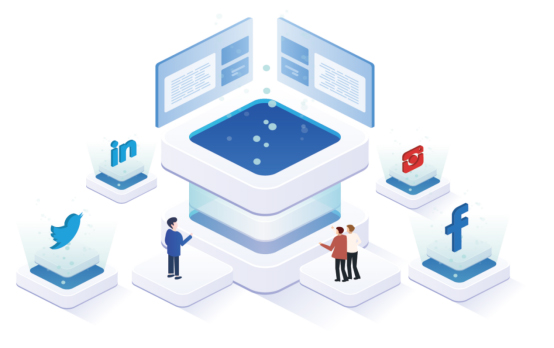 1.Download Module
Request Web page content only to obtain source code.
2.Parse Module
Intelligent analyzing web content (title, content, author, etc.), currently supporting WeChat official accounts, Twitter and most public media.
3.Automatic Classification Module
Automatically dividing main body of textinto certain categories according to keywords.
4.Document Management Module
The extracted elements (title, main body, release time, source, author, keyword, and summary) are saved as an XML file, with functions of consulting and searching (adding, deleting, modifying and searching) in delivering.
5.Upload Module
Providing mysql and http interfaces to upload data at present.
6.System Setup Module
Basic settings orient to run cycle and path, etc. of external system and software.
7.Site Configuration Module
Configure the crawling site and set templates as needed (no need to set extra templates for mainstream forums, social and news medias).
8.Crypto Module
Encryption of software to prevent unauthorized utilization.
III. Matrix Media Communication Effect Analysis Platform
The media communication effect analysis system collects, stores and calculates Internet content and related data (including historical data), media product content and related data (including newspapers, websites, microblogs, WeChat and APPs) within media groups. The system will pay attention to all-round inspection of paper media circulation, views, website clicks, microblog and WeChat forwarding amount, APP installation amount and number of active users. With the attention of news event reports, the number of topics triggered, etc., as well as the relevant news sources, the starting rate, etc., all finally integrated into actual brand influence. Quantitative analysis and continuous tracking of these influences will form a clued material library, all-media resource system and related intelligent communication effect analysis service system, build an intelligent communication effect analysis system platform based on "intelligent media", and finally form a comprehensive quantitative influence report.
Scope of analysis objectives for platform construction:
1、Analysis of Newspaper Communication Effect
Analyze the communication effect of traditional newspapers journals of media groups. According to the circulation of newspapers, feedback from medias and netizens, and content dimensions, the total effect of the traditional newspaper journalswill be comprehensively evaluated.
2、Analysis of Website Communication Effect
Analyze the communication effect of media group websites or website groups. According to the number of clicks on the website, the number of articles posted, the feedback from medias and netizens caused by the content, the credibility of the content posted and number of active users, the communication effect of the Group website will be comprehensively evaluated.
3、Analysis of Microblog Communication Effect
Analyze the communication effect of microblog in the media group system. Through the coverage, activity, interaction and dissemination of microblog, the communication ability and effect of the account will be reflected.
4、Analysis of WeChat Communication Effect
Through the dissemination, coverage, and maturity&influence of WeChat official account and posted articles, the overall popularity and development trend of the accountwill be reflected.
5、Analysis of APP Communication Effect
Countthe amount of media APP downloads from360 Mobile Assistants, 91 Assistants, QQ MyApp, Baidu Assistants, Wandoujia, iOS APP Store and other platforms, evaluatefeedbacks of netizens and make a comparative analysis with the download of similar APPs to reflect the APP influence of media groups.
6、Analysis of News Events Communication Effect
Followingthe existing media rating scheme, judge the communication effect of news events based on the Communication Influence Index.
IV. Matrix All-Media Intelligent Integration Platform
Matrix all-media intelligent integration platform, is an integrated management platform for multilingual media intelligent editing and editing operations driven by big data aggregation. Its development route, which takes media integration as the breakthrough point and content creation and communication innovation as the foundation, is a new intelligent media content production and management platform integrating public opinion research and judgment, clue discovery, unified collection, innovative production, multiple distribution, effect evaluation and comprehensive management. The platform supports all editing terminals including the command center, PC terminal and mobile terminal, and drives the leading mode of "indexing, planning, collecting, editing, distributing, evaluating and managing" with a closed-loop full process.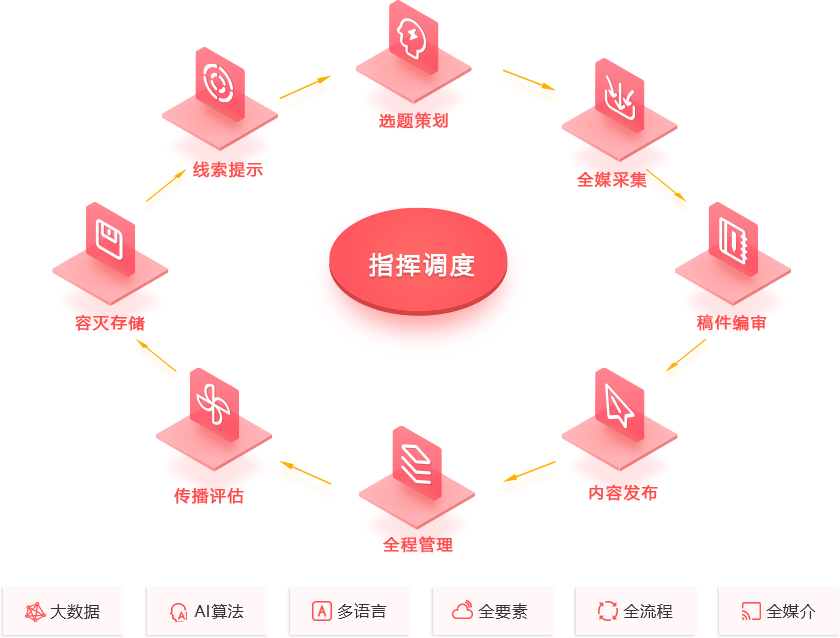 The Central Kitchen-like Command and Dispatch Center adopts a large-screen monitoring combination to realize various application scenarios, promote the multi-terminal integration of core all-media, and implement the working mode of integrating public opinion research and judgment, full-process business monitoring and command coordination. Mainly include:
1、Global real-time public opinion tracking subsystem: monitoring and capturing major overseas media platforms and domestic online public opinions, covering traditional media and new media platforms, grasping public opinion trends in the first place and obtaining news clues.
2、Original topic selection system: the whole process records, analyzes and feeds back the editing behavior of each editor and reporter.
3、Command and dispatchsystem: realize close coordination between command console and event site.
4、Key event analysis system: through data analysis tools such as opinion comparison, hot word extraction and emotion curve, it helps to recognize news events from multiple angles.
5、Resource center: provide rich creative materials and background knowledge for editors.
6、Flexible editing system: independent editing and distribution through different channels, and multi-channel integration of editing and signing;
7、Intelligent editing functions: sensitive word checking, online proofreading, automatic summary, creation axis, theme extension, manuscript background;
8、Mobile collecting &editing: you can use all the same editing functions as PC side on the mobile phone, report topics anytime and anywhere, and broadcast live videos.
9、Communication influence analysis system: the user-centered communication influence index evaluation system provides clear quantitative indicators from the index dimensions of reading, interaction and reprinting, and the communication effect evaluation and performance evaluation of micro-news products.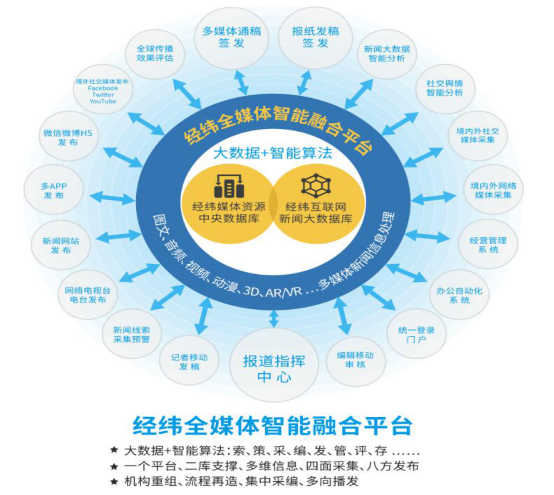 Matrix All-Media Intelligent Integration Platform
V. Matrix Media Central Resource Database Platform
Through the establishment of a central resource database, the resources of all-media big data are collected, and then be distributed stored, efficiently retrieved and intelligently analyzed, thus providing bottom-level data and technical support for the subsequent construction of various application systems, and carrying out hierarchical and multi-dimensional data query and associated use of the all-media big data platform.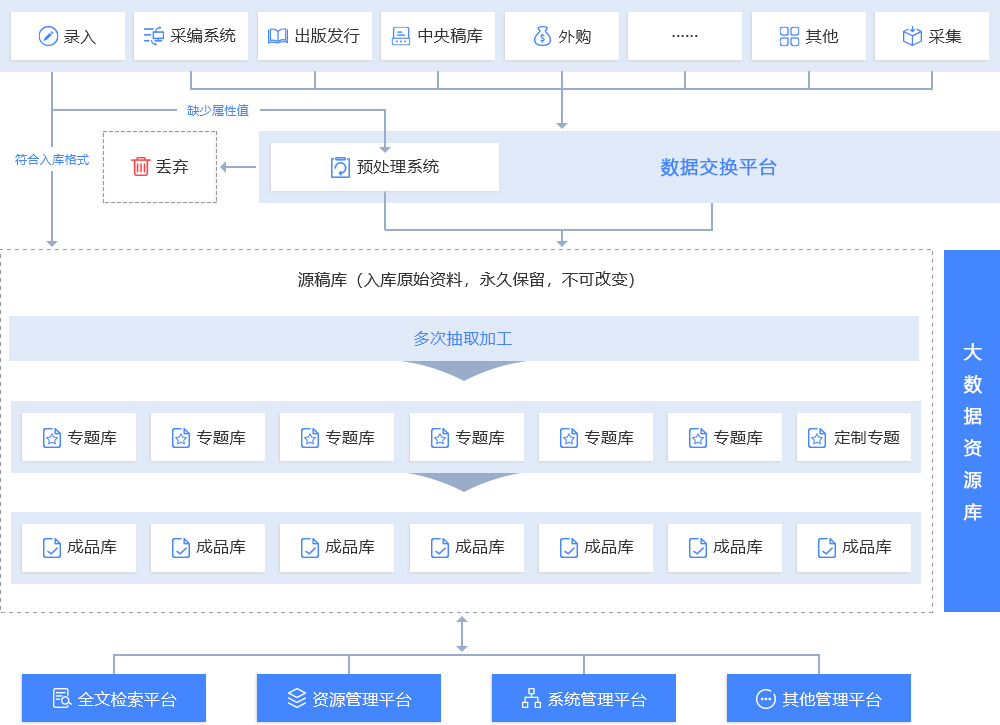 Matrix Central Resource Database Platform is logically divided into: data exchange platform, full-text retrieval platform, data management platform, system management platform and other expansion platforms.
1、Data exchange platform
Consisting of data exchange interface and unified data access interface, the main function is to automatically put the data of the business subsystem into storage after completing the data conversion. It consists of a plurality of customized interface modules. Each module is responsible for completing one relevant synchronization between business subsystem and resource repositories. It also provides a secondary development interface, which can conveniently add more subsystems and resource repositories for data sharing.
2、Full-text retrieval platform
Providing retrieval function of resource repository data to realize fast retrieval, secondary retrieval, advanced retrieval, personalized customization, etc., with friendly interface and convenient use, and at the same time provide a way to feed back the use opinions to data administrator;
3、Data management platform
Data management is mainly to manually add, modify and delete data in the resource repositories, extract and process thematic data for many times, indexing data, exporting thematic data, automatically importing data and making data statistics.
4、System management platform
The system management system is used by system administrators. Its main functions are to complete system-level management, including log management, user management, authority management, data management, data backup, data recovery, monitoring management and database management.
5、Other management platforms
Provide data download and statistical services for specific units.
VI. Matrix User Portrait and Intelligent Recommendation System
The labeled user model is abstracted according to the userattributes, user preferences, living habits, user behaviors and other information. In addition, it has in-depth insight into user behavior, builds a view of user preferences, provides users with cross-screen, real-time and "unique unmatched unparalleled" personalized recommendations, helps users obtain products, information and services of interest, and effectively improves key indicators such as user activity, click rate and retention rate.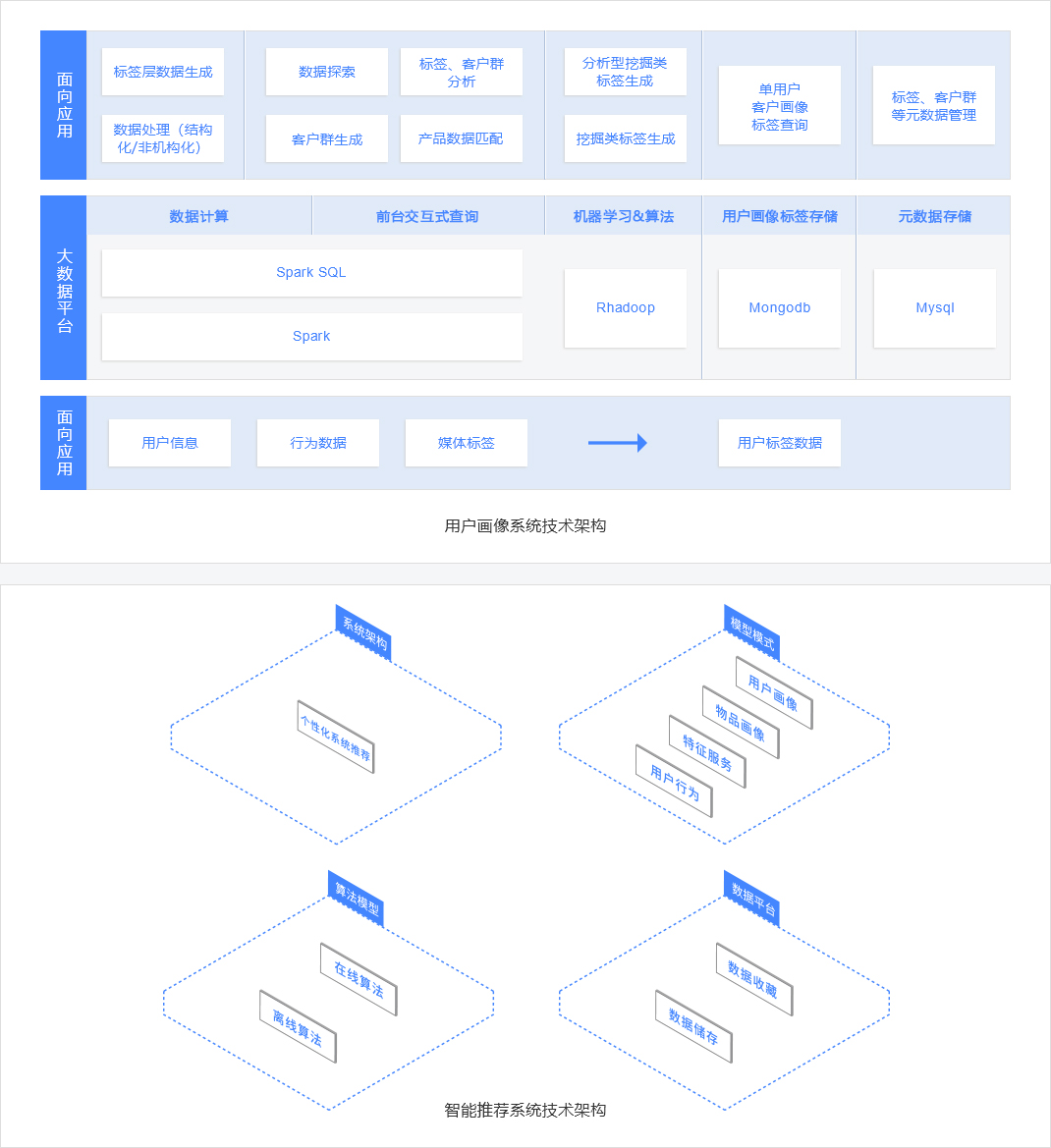 Technical Architecture of Intelligent Recommendation System
1、Algorithm engine: online/offline algorithms such as collaborative filtering, association mining, hot ranking algorithm, logistic regression, in-depth learning, etc.
2、Rule engine: recommendation strategy for different sites and different fields.
3、Policy configuration: select traffic proportion and configure different policy schemes.
4、Report display: based on the conversion funnel model, with multi-dimensional and multi-index quantitative evaluation, intuitive display and comparative recommendation carried out for different sites, different fields and different strategies.